Saturday, September 30, 2006
Happy Anniversary to Me
It's my wedding anniversary today. My husband and I have been married for five years. We were married on Makena Beach in Maui - such a beautiful spot. And what a way to get married! Avoided all of the big wedding stuff and just took off with a few friends and family and got hitched.

It was right after 9/11 so I was a little apprehensive to get on the plane. And all of the mags on the plane were Newsweek and Time with all of the 9/11 stories. I started reading them, began to cry and immediately put them away. I didn't want to be upset - I was goin' to get married! And I didn't want to freak myself out on the plane either.





So fast forward five years later and there's no chance in hell we're going to Maui any time soon. What a bummer. But our life is too hectic with the kids and we can't really afford it right now either. Oh well...

I just want to say I feel very lucky to have my husband in my life. He's a thoughtful man, a wonderful father and a supportive husband. We have our moments, our marriage isn't perfect but what marriage is? It takes work to make a marriage and we work hard to keep it going.

Here's hoping to many more years to come.

P.S. - I'll share pics of our trip in my next post. I uploaded them on the other computer and haven't got to them yet. My bad.

Friday, September 29, 2006
I'm back!
Yea! And I'm tired. And my post today is over at The Flirts.

I have some cool pics from my trip I'll share tomorrow...

Saturday, September 23, 2006
Aaaah, relaxin'
All right, I'm out of the hotel, which was a little too nutty and now we're on the road, on the Oregon coast. Staying in a motor home at a RV park close to the ocean in Newport.

Talk about nice...and it's so much easier staying in the RV. We're not living out of suitcases anymore, I unpacked everything. We have all kinds of food and snacks and can fix stuff ourselves versus going out (which I get sick of real quick).

So yeah we're staying at a park with internet access! I'm shameless damn it! But this is probably the last time I'll be around for at least a few days - unless the next place we stay at has a connection. I'm addicted, aren't I?

I even wrote a little bit last night - the Christmas story is almost finished!

And it's a celebration week for us. Brother's birthday yesterday, Grandma and good friend's birthday today, baby son's birthday Tuesday, our wedding anniversary a week from today. Whew! Oh, and it's also Stacy's birthday on Monday! Happy early Birthday Stacy!!!!

Thursday, September 21, 2006
I Can't Write!
Help me! I'm stuck in a hotel room with my two kids and I can't write! Aaah!

Actually, I could write at night after everyone is asleep but I'm so dang tired I just pass out. And then the crazy day starts all over again. Yikes.

Living in a hotel is not glamorous. I miss my stuff. I miss my cats. I miss my bed. I miss my satellite tv with the guide, Tivo, etc. My kids are going nuts, though they are behaving better than I thought they would.

On a side note I met Jenna yesterday. Yep, the infamous Jenna Bayley-Burke. We didn't really get to talk cos we were at a Children's Museum and it was a tad chaotic but it was cool to meet her in person. I appreciate her meeting up with me and taking me and the kids to the museum. My kids had a blast.

So maybe I'll get to write next week when we drive back down the coast towards home. Though I doubt it. At least I have internet. I'd be dying if I didn't. I'm such a slave to this laptop it's not even funny. Pitiful.

Hope everyone is having a GREAT week!

Tuesday, September 19, 2006
And the Winner Is...
...Melissa Marsh! Sorry I was unable to post the winners yesterday - I was on the road to Oregon all day long and by the time we got into the hotel, bathed the children, ate dinner, blah, blah, blah - I was too tired.

So Melissa, you've won a $5 Starbucks gift card and a super cool bookmark. Send me your snail mail address to karen.e.erickson @ gmail.com (minus spaces) and I'll get it out to you ASAP!

Thanks so much everyone for participating this past week! It's been fun getting to know you.

On a side note - I GOT THEM OUT OF THE KITCHEN! I haven't wrote a word since Saturday night but I did get them out of the kitchen. Now I need to go back and write the good stuff.

So I leave you with a pic of Patrick Dempsey, otherwise known as Dr. McDreamy. Why do I not watch this show? Why? It looks like it has all the elements that I would love...so what the heck is wrong with me? And the new season of Grey's Anatomy starts this week. I think I need to go buy the previous seasons on DVD and watch them...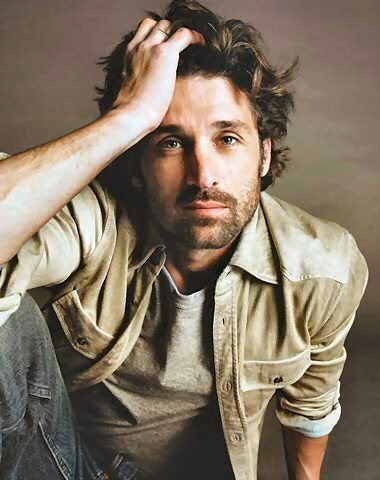 Saturday, September 16, 2006
Kissing & Getting Out of the Kitchen
My headline makes no sense. You know why? It's about my stubborn characters - they're kissing in the kitchen and I can't get them out of there.

Trust me, I've tried. I've rewritten the start of this scene three - THREE!!! - times. This thing was just a flowin' too. It's a Christmas story, I've had so much fun writing it...until now.

Though this isn't a kitchen, it is a public place and this couple can't be having, ahem, carnal knowledge of each other in public. Well, they could but they'd get in big trouble.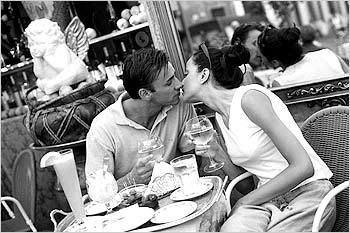 I want my couple to have carnal knowledge of each other - and I don't want them to do it in the kitchen. It's not their style. They need to be in a bed, like this: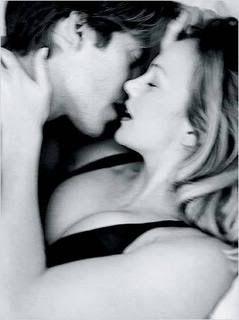 I think I need to rewrite the scene again and have it start somewhere else - not in the kitchen. Sigh...

This is the last day to leave a comment and be entered in my contest to win $5 Starbucks gift card and a bookmark! Whoo hoo!

Friday, September 15, 2006
My post...
...is at The Word Flirts today. Leave a comment there and I'll count it for the contest.

P.S. - Ask and I shall receive! The weather is much cooler here - it started yesterday afternoon. Kelley, I do believe your clouds came my way. ;)

Thursday, September 14, 2006
Cooler Weather
I'm beggin' for it! It was 100 degrees here yesterday - gag! So sick of the hot weather...

But it's not like we get pretty leaves and gorgeous fall scenery around here. No, I have a bunch of Oak trees and scrub pines. In fact, around my house, it looks a lot like this: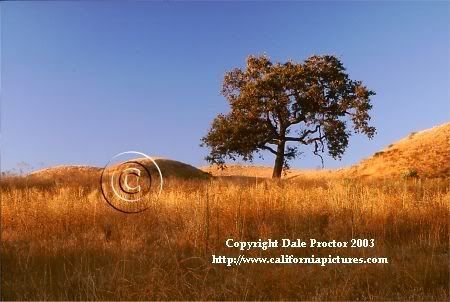 Though I have no idea where that photo was taken. And to be honest, I don't have too many lone Oaks, more like lots of Oaks hanging out together. But that pic is a close representation without my going out and taking my own photo. I'm lazy.

The weatherman said it was supposed to be a lot cooler tomorrow. Yay!

So whose lucky enough to have cool weather where they're at? Don't forget to leave a comment to be entered in my contest! It ends Saturday.

Wednesday, September 13, 2006
Supporting M.E. Ellis
M.E. Ellis isn't keeping the royalties for her book Quits. She's donating the sum to the NSPCC (National Society for the Prevention Of Cruelty to Children) so she's running a contest I said I would gladly be a part of.

Here's a video that was made about Quits.



On another note, here's a pic of Cary Grant and Grace Kelly. Sigh...Grace was so beautiful. But I heard she was kind of trampy! She had affairs with like every leading man she ever had! But then she married the prince...


Tuesday, September 12, 2006
Laurence
Ok, here's some pics of Sir Laurence Olivier...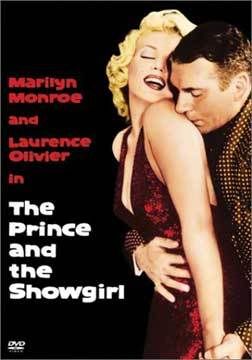 Ooooh, I found this one last night and I think this pic is sexy. Of course, anything with Marilyn Monroe is sexy. I like the way he's holding her.

And then Mary Ann sent me this pic of Larry yesterday. Thanks again Mary Ann!




I had to resize it cos it was kinda big, but hey, he still looks good even w/ that lousy cigarette in his hand! A different time, huh?

Don't forget to leave a comment so you're entered in my contest!

Monday, September 11, 2006
Handsome Men of the Past
It's going to be a silly blog kind of week. I don't feel like writing anything too serious - I have too much going on and my brain is still a little empty because of this cold. I believe I've coughed most of my brain cells out. Ugh.

So check out this pic of Clark Gable. I don't find him drop dead gorgeous, but I lurved him as Rhett Butler in Gone with the Wind. I just watched that movie again this summer after many many years. Scarlett is so awful - what the hell did he see in her? And I read the book long ago - she was even worse in that! Oh well...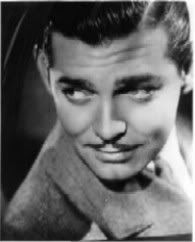 I need to find a pic of the actor Lawrence Olivier back in his day - whew, he was real purty!

Don't forget to leave a comment - then you're entered into my contest to win a $5 Starbucks gift card and a bookmark! Come on, that'll buy you one drink and leave change for another one, plus a bookmark? Cool!

Sunday, September 10, 2006
New Contest!
Well, I meant to hibernate through the weekend, yet here I am. I had a very productive Friday and Saturday. Wrote over 4,000 words since Friday night and cleaned a lot around the house yesterday. Of course, all of this kicked my butt and I felt like hell last night. My husband kept insisting I have allergies - I believe now it's a cold. When I cough, I sound like a 99 year old smoker.

Anywho, that's not what I want to talk about. I'm here to announce a new contest!

In celebration of Release Me being a Top Seller at Cobblestone and in honor of Fall trying to get here (hey, it was cooler yesterday in my neck of the woods - yea!), I'm going to give away a $5 Starbucks gift card and a fun bookmark. How can I win, you ask?

Just leave a comment on my blog all week. I'll be gathering the comments left beginning tomorrow (Monday) through Saturday, September 16th, and entering them in the drawing. So leave a comment every day - it ups your chances!!

I'll announce the winner Monday, September 18th. Now I'll be out of town then, so forgive me if I can't announce it in the morning. But I'll find a way to get to the Internet, trust me.

Friday, September 08, 2006
Hibernation
I'm going to hibernate for a while - at least through the weekend. I'm tired. I have major allergies that made me go to bed last night at 9:30. I never go to bed that early. These allergies are kicking my ass.

Plus, I have a couple of Christmas short stories I want to work on. I would really love to finish at least one in the next few days. I'm leaving a week from Saturday and I'll be gone for over a week. I don't think much writing is going to happen during that time. I need to cram as much in as possible.

So check this out. I at first thought it was a fine man butt but now I'm not so sure. Is that really a woman? Check out those legs - they're smooth. But the back looks mannish. Ah, hell, I can't tell. Maybe my allergy medicine is making me crazy.

Is this a man or a woman???

Thursday, September 07, 2006
Cobblestone Press Contemporary Author Day Chat!
It's happening right now as we speak! Head on over there...


Cobblestone Press Contemporary Author Chat Day
Thursday, September 7th
The Cobblestone Inn
http://groups.yahoo.com/group/cobblestonediscussion/
Join the Cobblestone Press authors of scorching hot contemporary romance for an all day reader appreciation chat at the Cobblestone Inn discussion loop! Lots of prizes, exclusive excerpts, sizzling discussions and so much more! You won't want to miss it!
Schedule (all times are Eastern):
9 a.m. to 10 a.m. Susan Greene
10 a.m. to 11 a.m. Loribelle Hunt
11 a.m. to Noon Jade James
Noon to 1 p.m. Madison Chase
1 p.m. to 2 p.m. Jennah Sharpe
2 p.m. to 3 p.m. Sara Dennis
3 p.m. to 4 p.m. Lyric James
4 p.m. to 5 p.m. Karen Erickson and A.L. Debran
5 p.m. to 6 p.m. Shelli Stevens
6 p.m. to 7 p.m. Charlene Sands
7 p.m. to 8 p.m. Ann Cory
8 p.m. t0 9 p.m. Lia Sebastian
9 p.m. to 10 p.m. Crystal Jordan
10 p.m. to 11 p.m. Mia Romano
11 p.m. to Midnight Emma Petersen

Don't miss the party! Thursday, September 7th, at The Cobblestone Inn
cobblestonediscussion-subscribe@yahoogroups.com
(to join)
Tuesday, September 05, 2006
Goals
I feel scattered and I need to focus. There's all of these things I want to accomplish, and I don't know if I have time to do them all. So that means I need to make time.

Which means I need to -- gulp -- organize.

It's not that I'm a total scatterbrain, but I don't organize much. I've tried - lord knows I've tried. Many times. Over and over. When I worked full time, I always meant well. Had calendars dinging at me on the computer (eventually just shut them off cos they annoyed me), made lists a mile long. But in the end I discovered those things didn't work for me. I preferred to work in chaos.

Ugh!

I get too easily distracted. At home, I'll fold a load of laundry, take it back to my bedroom to put away, start making the bed, clean the bathroom...and that load of laundry is still sitting there waiting to be put away.

This is the story of my life!

So this week my goal is to get organized. I don't know how much it'll help me, but I wanna try. Again. I want to organize both my personal life AND my writing life. I'd like to get a plan in place by the end of this week, especially cos I'm going out of town at the end of next week. Wish me luck cos I'm gonna need it.

What works for you guys? Any suggestions? I need all the help I can get.

Saturday, September 02, 2006
Great News!
Warning: Shameless Self-Promotion Ahead...

I'm so excited! Release Me is a Top Five Bestseller for August at Cobblestone Press!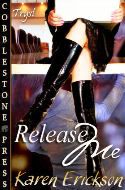 Click on the cover if you haven't bought it yet. Please. :)

I'm with great company. Here's the list:

Bad Moon Rising by Loribelle Hunt
Bonding Experience by Cora Zane
Seducing Olivia by Madison Layle and Anna Leigh Keaton (second consecutive month!!!!)
Under Cover of the Moon by Loribelle Hunt (second consecutive month!!!!)
Release Me by Karen Erickson

Whoo hoo! Congrats ladies!

In other awesome news, Release Me has received very positive reviews.

Kerin at Two Lips Reviews gave it four and a half lips!

"The attraction between Sommer and Ted is instantaneous and lit the pages of this story. Sommer and Ted are both so likeable which made Release Me such a wonderful read. The love scenes were a beautiful balance between ferocity and tenderness which caused them to be highly erotic. I can't remember the last time that I got lost in a book and didn't notice the time pass and the pages fly by…Release Me is a sexy, hot read that you won't want to put down."

Read the rest of the review here: http://www.twolipsreviews.com/content/index.php?option=com_content&task=view&id=138&Itemid=36

Lena C. at Fallen Angel Reviews gave it four angels!

"Release Me by Karen Erickson is one tale so worth reading from its comedy to the sexual heat that makes Ted and Sommer so unbelievably real in this book. All Sommer wants is a guy who knows how to do it and give her that big orgasm everybody talks about. Ted is your average man trying to make a living in the business world. He falls heedlessly in love with Sommer but abides by her wishes for just a fling, which makes it harder for him to just walk away. I loved how Karen Erickson kept up the heat throughout the book yet never swayed from the story line. Great job."

Read the rest of the review here: http://www.fallenangelreviews.com/2006/August/LenaC-ReleaseMe.htm

I want to say thanks to everyone for helping me make this happen! I couldn't have made the bestseller list without YOUR support!!!