Saturday, September 02, 2006
Warning: Shameless Self-Promotion Ahead...

I'm so excited! Release Me is a Top Five Bestseller for August at Cobblestone Press!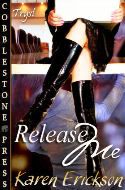 Click on the cover if you haven't bought it yet. Please. :)

I'm with great company. Here's the list:

Bad Moon Rising by Loribelle Hunt
Bonding Experience by Cora Zane
Seducing Olivia by Madison Layle and Anna Leigh Keaton (second consecutive month!!!!)
Under Cover of the Moon by Loribelle Hunt (second consecutive month!!!!)
Release Me by Karen Erickson

Whoo hoo! Congrats ladies!

In other awesome news, Release Me has received very positive reviews.

Kerin at Two Lips Reviews gave it four and a half lips!

"The attraction between Sommer and Ted is instantaneous and lit the pages of this story. Sommer and Ted are both so likeable which made Release Me such a wonderful read. The love scenes were a beautiful balance between ferocity and tenderness which caused them to be highly erotic. I can't remember the last time that I got lost in a book and didn't notice the time pass and the pages fly by…Release Me is a sexy, hot read that you won't want to put down."

Read the rest of the review here: http://www.twolipsreviews.com/content/index.php?option=com_content&task=view&id=138&Itemid=36

Lena C. at Fallen Angel Reviews gave it four angels!

"Release Me by Karen Erickson is one tale so worth reading from its comedy to the sexual heat that makes Ted and Sommer so unbelievably real in this book. All Sommer wants is a guy who knows how to do it and give her that big orgasm everybody talks about. Ted is your average man trying to make a living in the business world. He falls heedlessly in love with Sommer but abides by her wishes for just a fling, which makes it harder for him to just walk away. I loved how Karen Erickson kept up the heat throughout the book yet never swayed from the story line. Great job."

Read the rest of the review here: http://www.fallenangelreviews.com/2006/August/LenaC-ReleaseMe.htm

I want to say thanks to everyone for helping me make this happen! I couldn't have made the bestseller list without YOUR support!!!