...new blog home! Yes, I just had my website re-done and added my blog to it. It looks fab - go check it out!

Go here

And here's the address:

http://www.karenwritesromance.com/blog/

If you would be so kind to update your blogroll with my new blog addy, I would love you forever. I might even give you a smooch too. Or maybe even a child of mine...

Whoops, didn't mean to say that last one. Hee hee.

Yes I did, I got my nose pierced last night. I went out to dinner with my friend Mars and then we went to a grungy little tattoo shop and I did the deed.




Okay excuse the kinda crappy picture - I took it late last night and I was tired. And yes that's dried blood around the stud. Gross, I'm sorry. It's all clean right now but I personally look trashed. So no piccys today. I swear I'll take a better one later.

On another note, you need to go check out the video on our Naughty & Spice blog. It's freaking hilarious. Just don't watch it if you're easily offended by foul language and sexual content. Heh heh heh...

Over at the Naughty & Spice blog today. I'm talking about T&A. Yeah, you read right, T&A...

Yay it's here!





I've joined a new group blog and our first post is up today! Check out what Shelli Stevens has to say about romance (click the banner to go straight to the blog).


Something new is coming - something fun and naughty and spicy. I'm a part of it and I can't wait to tell you about it but...not yet. It's a secret.

Though it won't be a secret for long.

Hee hee hee.

Over at the Word Flirts today. Talking about goals and stuff.

Check it out...

Check out the hot cover for my new book Covet, coming in June from ...Amber Quill Press ~ Amber Heat.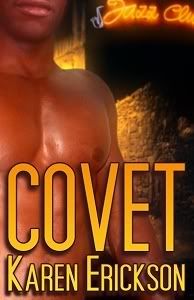 Jenny is used to getting what she wants but the one thing she covets the most is the seemingly unattainable Tyrone Holt.

A chance meeting between them leads to several sizzling encounters they both can't forget. But neither of them "do" relationships. Will they make an exception to their own rules?

Thanks for the well wishes yet again - I'm feeling a ton better. Let's hope we have this house sickness beat!