Tuesday, October 31, 2006
Yay! Halloween is here! And so is my book Haunted Dreams!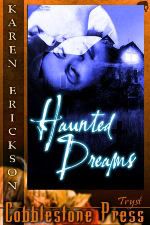 (Click on the cover to purchase)

A handsome stranger haunts Kara's dreams, and she's stunned when she meets him at the Halloween charity ball. Staying the night in a haunted house just might bring her closer to Hayden, but will it be close enough to satisfy the ghost lovers who need them to unite - forever?

Don't forget about the contest that I'm having today! You could win a $15 gift card from Bath & Body Works just for purchasing my book today. Check out yesterday's post for details.

Everyone have a safe and Happy Halloween!