Wednesday, December 06, 2006
Lots of stuff! I sold my book Second Chances to
Cobblestone Press. It'll be a part of their Rune series (representing the Jera - Harvest - rune). Here's a blurb:

Widow Abby McKay is ready to make a change in her life. Eric Walsh needs to get healthy or he won't be around to even live his life. When they meet, the attraction is undeniable. But one careless night will change their lives forever...

There's a lot of emotion in this one. Not my usual light fluff. I'll keep you posted on release dates, etc.

A bunch of Cobblestone authors are going to be at the Joyfully Reviewed Yahoo loop on the 16th. Look at this gorgeous flyer Emma made: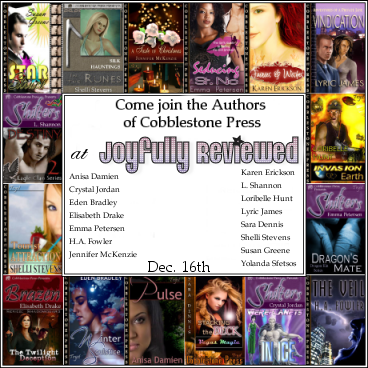 Click the graphic to check it out...