Thursday, January 04, 2007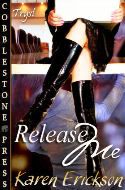 Erickson's aptly named novella grips you from page one and never lets go. It combines well-developed characters with a modern and comedic plot. This speedy and light-hearted fireside read is sure to chase away the winter blues.

I knew this review was coming up and I was worried about it. What if they hated Release Me? After all, this is ROMANTIC TIMES. I've been reading this mag off and on for years. And lemme tell ya, I've read some scathing reviews in there. I would've died if they absolutely hated it.

But they didn't hate it. I was so excited by this review I had to share. Especially because this is my first book, the one that started it all.